You asked and we listened! Introducing Wellscroft Wednesday Workshops, a series of short, focused fencing workshops designed to give you a hands-on and personalized learning experience. Whether you're new to farming, an experienced farmer, gardener, commercial grower or just interested in learning more about your existing fencing system, you'll benefit from these informative workshops. The non-refundable fee of $10 helps cover the cost of snacks, information packets, and staff, and it can be credited towards a purchase of $100 or more the day of the workshop. All workshops are held on Wednesday afternoons from 2-5pm at our Harrisville, NH headquarters.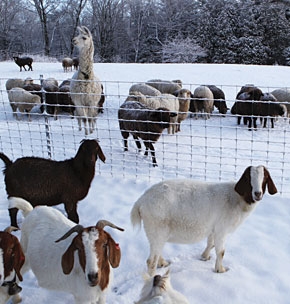 Winterizing Your Fence & Energizer
November 14th, 2-5pm
Learn how to properly store your electric netting and energizer, and tips for winterizing permanent fencing including switching to a pos/neg system. We'll also cover end-of-season techniques and preparation required to dust off, prepare, and re-energize your equipment for spring-time use.
See below for our schedule of upcoming workshops. Hurry to register, classes are limited to 15 participants!
Fun & Informative
Hands-On Lessons and Demonstrations
Recommendation & Best Practices
Materials
Tour of Various Fence Types
Refreshments Provided
REGISTRATION IS CLOSED
PREVIOUS EVENTS
Extended Grazing for Sheep & Goats
This event happened on October 17, 2018
This workshop will cover the unique needs that Sheep and Goats require to be safely and effectively contained.
Registration is closed for this event.
Installing & Maintaining 2D/3D Electric Fences
This event happened on July 24, 2018.
Multiple strand electric fences are both effective and economical for deer & critter control.
Registration closed.
Poultry Fencing 101
This event happened on August 22nd, 2-5pm
This workshop is geared towards the beginner hobbyist to intermediate poultry farmer.
Registration closed.