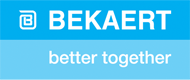 A Reliable Brand
The story of Bekaert started in 1880 with barbed wire and has continuously grown from these roots. Bekaert is a supplier of wire products for the agricultural market.
Made in the USA
Bekaert fencing products are American-made and produced in our Van Buren, Arkansas manufacturing facility. Using processes that have been developed based on years of best-practices, Bekaert fencing products set the bar in terms of quality and durability.
Guaranteed Coatings
Bekaert fencing products are protected by a wide range of coating solutions. These solutions range from class 1 zinc, to our advanced coating of zinc aluminum, Bezinal®. Bekaert offers coating guarantees up to 40 years.
Fixed Knot
Fixed-Knot woven wire fence provides superior control for animal containment, exclusion, and protection from predators. The high-tensile wire and solid vertical stays provide the strongest fence option on the market for various animal applications.
Field Fence
Bekaert field fences utilize a woven wire with a hinge joint knot. Bekaert field fences are offered in a wide variety of heights and styles that feature graduated spacing that starts with narrow openings at the bottom which prevents the entry of small animals.
Non-Climb Fence
Perfect for jumping animals like horses, sheep and goats, and for decorative applications, Non-Climb fence's versatility and strength come from its "S" knot design. The S-knot as well as smaller fence openings were designed with your animals safety in mind protecting against harm and entanglement.
Barbed Wire
Barb wire construction consists of two wire strands twisted together and starred with 2-point or 4-point barbs at intermittent distances, usually 5 inches. Barbed wire is still the standard for cattle fencing in most of the United States as an affordable and effective way to enclose large areas.
Other Fence Products
The best way to ensure the quality of your Bekaert fence is to use Bekaert Accessories. Bekaert accessories include Bezinal® Barbed Staples, Knurled Staples, Fence Stays, Electric Fence Wire, and also Welded Utility Fabric.